Are you suffering from acne scars, wrinkles or brown spots from sun damage that don't improve with medicated creams?
Are visible signs of aging holding you back from certain social situations? Is your sun-damaged skin giving you grief? Would you like a non-surgical alternative for total skin rejuvenation on the face, neck, hands, or chest? If so, it could be time to look into microneedling treatments with SkinPen® at Derrow Dermatology.
Microneedling is an advanced rejuvenation technique that's done in-office with very little pain, side effects, or downtime. The procedure is beneficial for patients who are dealing with a variety of complexion issues and would like to improve their skin's overall health. Derrow Dermatology uses SkinPen® -the only FDA-approved microneedling device on the market.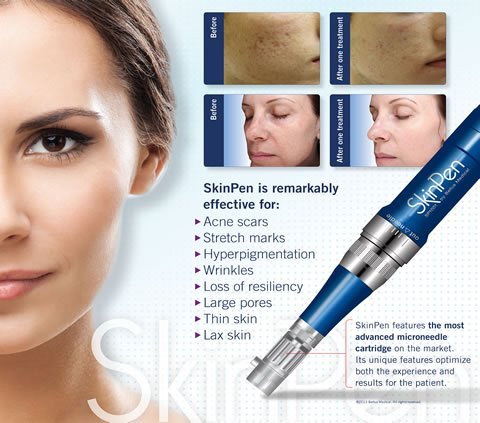 Microneedling with SkinPen® is quick and easy.
Treatments are minimally-invasive and relatively pain-free with a topical anesthetic. During treatment, your skilled provider will use the SkinPen® device to apply controlled micro-injuries at precise depths for optimal rejuvenation. The procedure stimulates the body's natural self-healing process. With SkinPen®, your provider is able to provide total rejuvenation while simultaneously combatting your individual concerns.
Microneedling with SkinPen® is safe and effective for all skin types, tones, and textures because it doesn't involve any chemicals or potential irritants. Instead, the procedure relies on your body to do most of the work. At the time of your consult, Dr. Witt will help assess your candidacy for microneedling and customize a treatment based on your needs.
Am I a Good Candidate for Microneedling?
You may be a good candidate for SkinPen® treatments if you're unhappy with the way your skin has aged. The procedure can also be beneficial for patients with unwanted acne scars or enlarged pores. Microneedling with SkinPen® helps with a variety of cosmetic concerns throughout the face and body.
SkinPen® microneedling treatments might be right for you if you have mild to moderate:
Fine Lines and Wrinkles
Hyperpigmentation
Lax or Crepey Skin
Acne Scars
Textural Problems
microneedling Consultations
Are Available Now!
Our expert providers here at Derrow Dermatology would be happy to meet with you for an in-person consultation. Simply fill out the form on this page, and one of our trusted staff members will reach out to promptly to schedule your consultation.
How Long Does a Typical Treatment Take?
Treatment times vary based on the size of the treatment area, and the number of injections needed to achieve an optimal outcome. Most patients can expect the actual procedure to take less than 10 minutes. Treatment is applied with a fine-gauge needle and tolerated well without the need for additional anesthetic.
What Results Will I See?*
Patients will start seeing a reduction in wrinkles within 1-3 days but it can take up to 2 weeks to see the maximum results. If there is still movement after that time, patients can follow-up in the clinic for reevaluation to see if additional touch-up injections may be needed. If patients have deep wrinkles at rest, they may need multiple rounds of  treatment to see those wrinkles smooth out completely.
Is There Any Downtime?
Patients are able to go back to their day-to-day routine directly after treatment with minimal restrictions. As with any injectable, side effects can include redness, swelling, tenderness, or bruising at the treatment site. Side effects typically subside quickly.