What exactly is Evoke by InMode?
Evoke is a revolutionary, hands-free facial remodeling platform. This proprietary non-invasive technology is an industry first, delivering hands-free thermal facial and submental remodeling. The remodeling of these areas produces results that are associated with a youthful appearance at Derrow Dermatology. The ultimate in medical-grade technology that ensures your practice capitalizes on client demand for facial remodeling treatments.
Evoke is perfect for both face and neck tightening – without the use of injections or surgery!
Evoke uses bipolar radiofrequency (RF) technology to stimulate collagen and lift & tighten skin on the cheeks, jawline, and neck. Unlike other skin tightening devices, Evoke uses hands-free applicators to contour the face and/or neck to provide a youthful, rejuvenated look.
The best part? There is no downtime!
Patients may resume normal activity immediately after treatment!
The Evoke device has 2 treatment applicators patients can choose from: one for the cheeks & jowls and another for the neck & double-chin (submental area). For full face and neck rejuvenation, these applicators can be combined.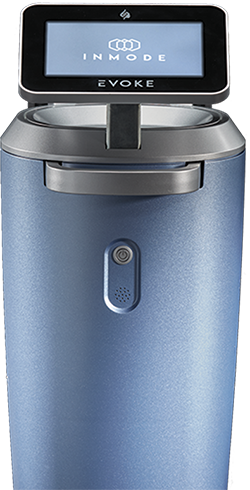 What are some key benefits?
Evoke's hands-free facial applicators deliver proven bipolar radiofrequency (RF) energy to the cheeks, neck, and jawline. The RF energy penetrates deep into the subdermal layer, heating the Fibro Septal Network (FSN). With its ability to maintain a constant temperature, Evoke remodels the dermis and subdermal tissue to deliver more defined facial characteristics.
Provide a variety of customizable facial aesthetic treatments with one device.
Hands-free design and intelligent programmable technology allows Evoke to reduce patient-physician face-to-face contact during procedures.
AM I A CANDIDATE FOR EVOKE?
As a non-invasive and non-surgical procedure, Evoke is safe for people of all ages and skin types and comes with no significant contraindications for use. You're a candidate for Evoke if you have skin laxity, excess skin/fatty tissue on your face or neck, have jowls or a double chin. You should consider this procedure if you want to remodel your facial and submental regions without surgery.
How long does Evoke treatment take?
Treatment time may vary based on your goals. We offer both 20 and 45-minute sessions. It is important to keep in mind that longer treatment times will result in further skin tightening and facial contouring. A typical Evoke treatment involves 6 sessions spaced one week apart for optimal results. You'll notice gradual improvements to your skin's quality as you proceed through the treatments.
Remember that there is no downtime after your procedure! You can immediately go back to work and resume your daily activities.
What is the cost of this evoke by inmode?
Treatment costs may vary. Please call our office for more information.
schedule a consultation!
At Derrow Dermatology, we don't believe in a one-size-fits-all service model. Your treatment plan will always be customized to help address your needs in a timely manner. To learn more, please call our office at 407-389-2020.