The first and only FDA-cleared handpiece to provide deep tissue remodeling!
Morpheus8 (M8) Body is the latest radiofrequency microneedling technology FDA approved for deep tissue remodeling. This minimally -invasive treatment tightens skin, liquefies fat, and reduces the appearance of cellulite, all while improving the overall tone and texture of the skin. 
TIGHTEN AND IMPROVE YOUR SKIN
Using the deepest fractional technology available, Morpheus8 for Body is a fractional remodeling and contouring treatment that addresses the underlying tissues and creates new collagen production. 
With 3D Smart Frame and Burst technology, the Morpheus Body utilizes a unique large surface tip consisting of a matrix of 40 thin gold-coated microneedles and a thermal profile of 7mm + an additional heat profile of 1mm, Morpheus8 Body can quickly treat large tissue areas at the deepest levels of RF available.
WHAT CAN MORPHEUS8 FOR BODY DO?
Tightens the skin
Liquifies fat
Improves cellulite
Reduces the appearance of stretch marks and scars
Improves "rippled" skin
Evens out skin texture
Common treatment areas:
Abdomen
Upper arms
Bra roll
Thighs
Buttocks
Above the knees
Flanks
Anywhere post liposuction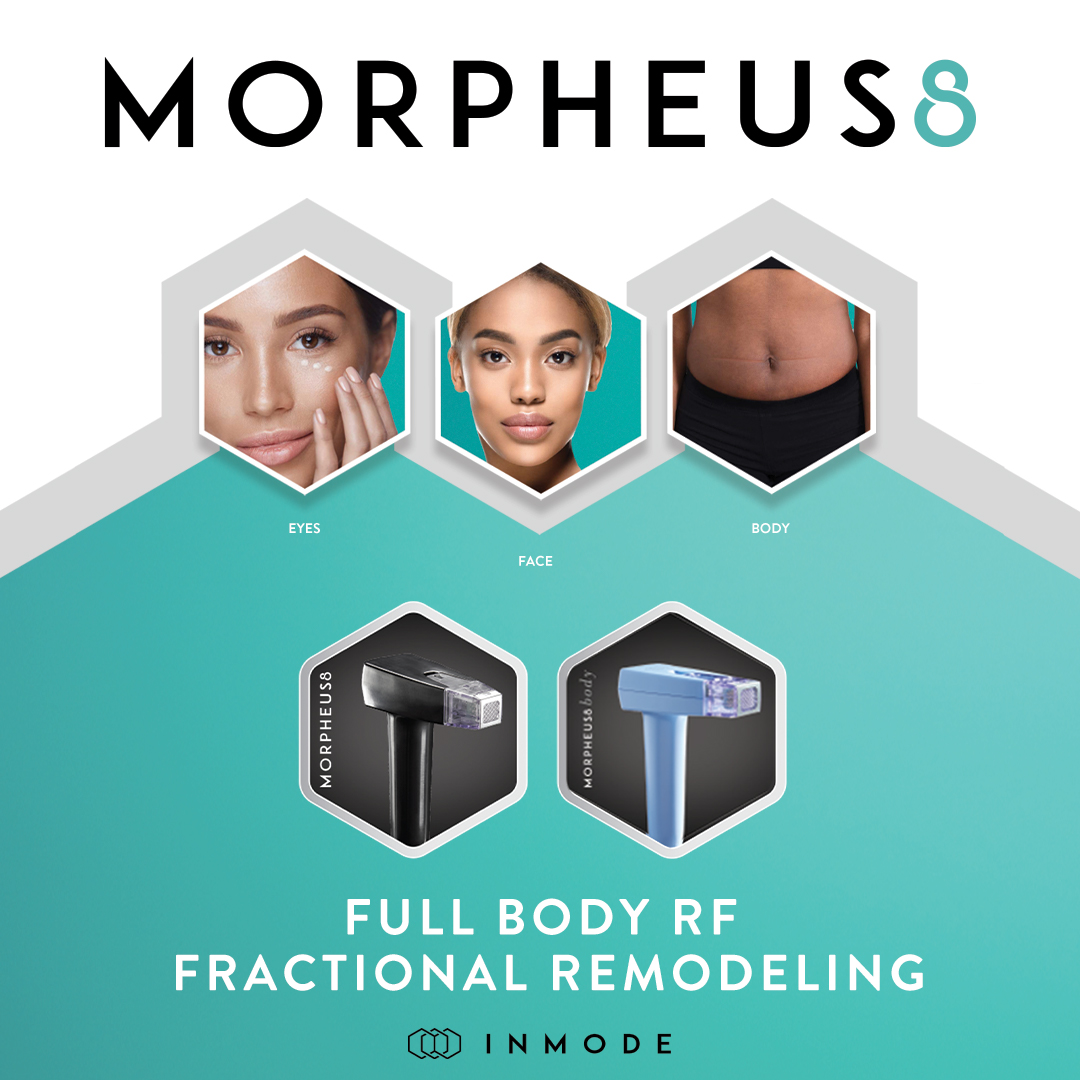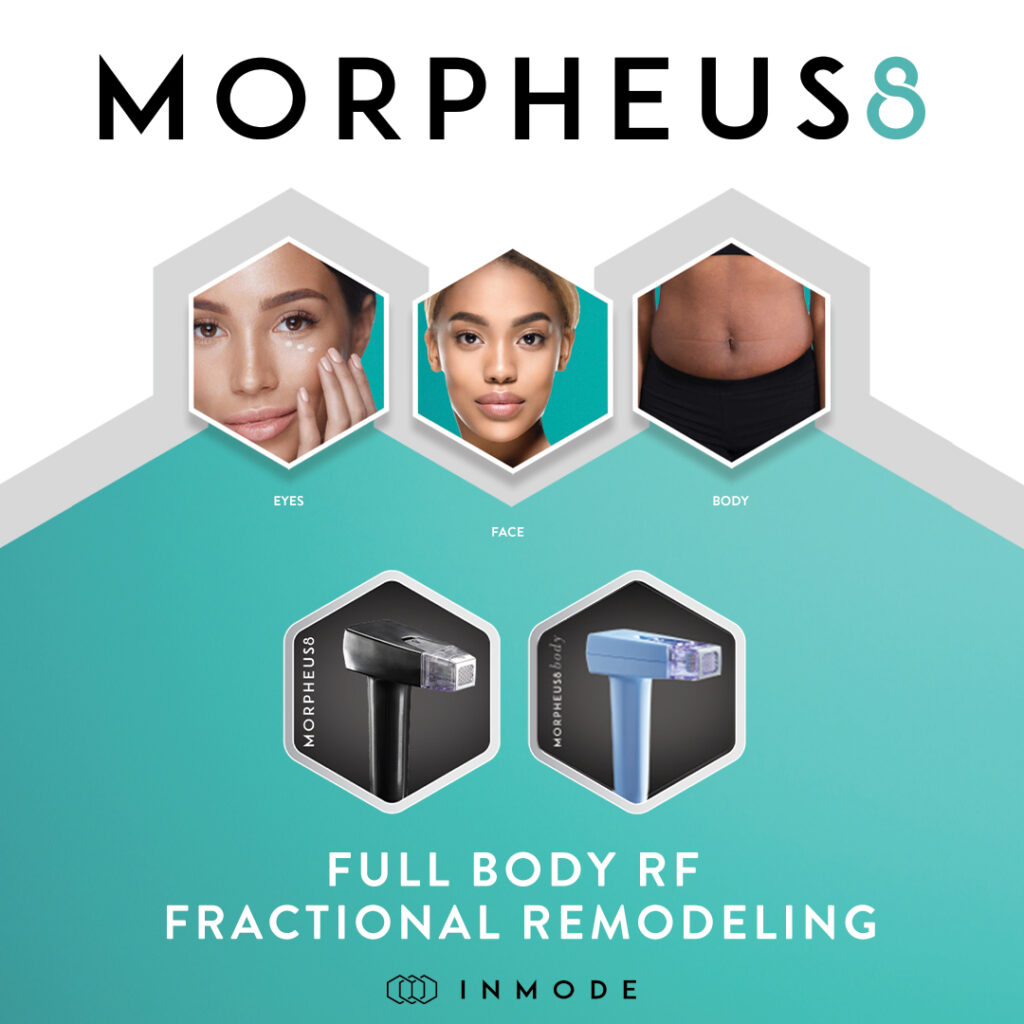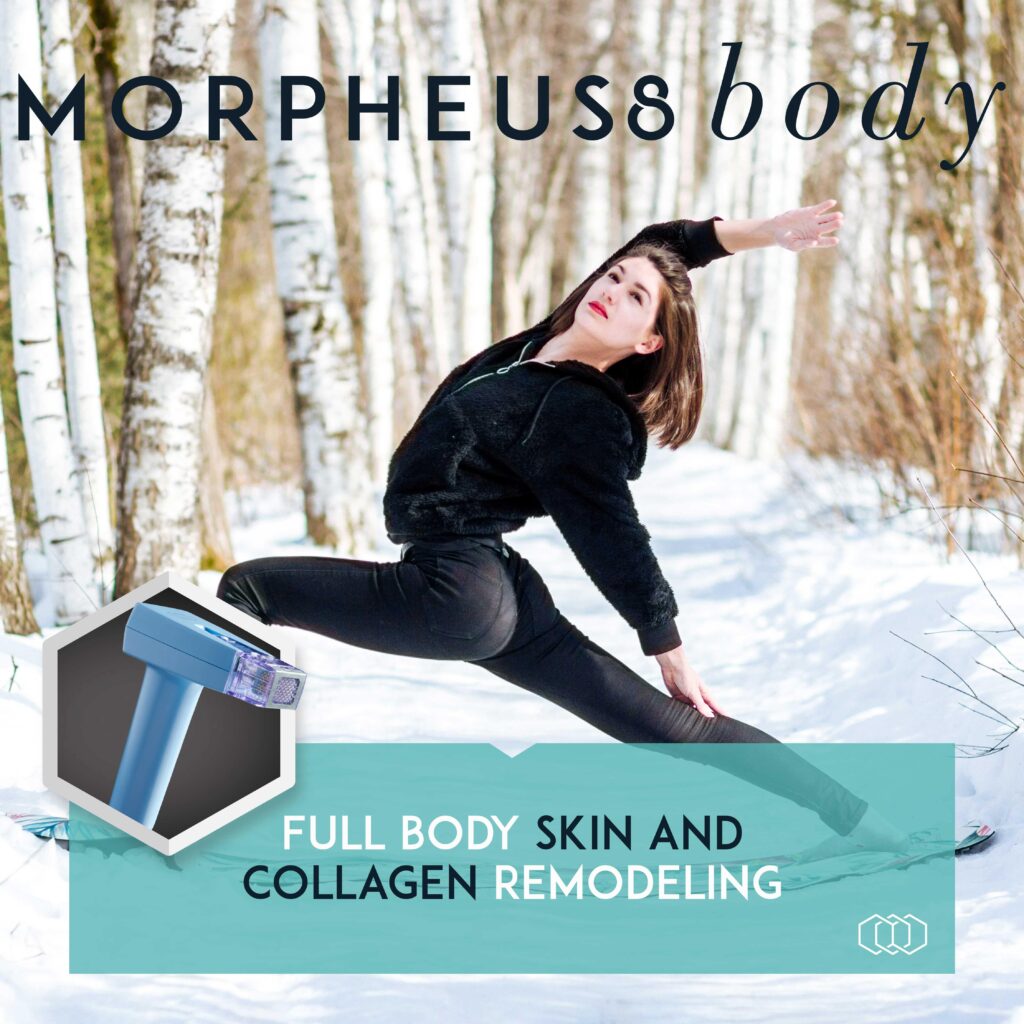 How exactly does it work?
Morpheus8 is versatile and can work at a range of depths, from 4mm for resurfacing facial treatments to deeper depths up to 8mm for body treatments––deeper than any other microneedling treatment. This allows Morpheus8 to effectively target the subdermal level and treat more significant skin concerns such as scars and stretch marks.
Further enhancing its efficiency, Morpheus8 features Burst technology that allows multiple subdermal layers to receive fractionated radiofrequency energy in a single device pass – resulting in minimal treatment times and downtime for both the face and the body.
Who Is a Candidate for Morpheus8?
Morpheus8 is an effective treatment for men and women of all skin types and colors who would like to treat skin concerns, including mild-to-moderate skin laxity. Ideal candidates for Morpheus8 meet the following requirements:
Are generally in good health
Do not smoke
Have no active skin infections or breakouts in the treatment area
Do not have severe skin sagging
Are not currently taking Accutane
Are not pregnant or nursing
Penerfect for treating large body parts!
Morpheus8 3D Smart Frame deploys bipolar RF energy in a sequential radial and vertical pattern delivering 3D tissue block heating and procedures that deliver more energy in a deliberate and uniform treatment pattern.
When in Burst mode, bipolar RF energy is automatically delivered to multi-level treatment depths in a single cycle. The ability to target tissue sequentially at three levels, in millisecond intervals, allows for a significant reduction in treatment times, minimizes skin injury, increases treatment uniformity, and enables customized full body fractional procedures.
How much does it cost?
Our pricing for body treatments are based on your treatment area and require a free consultation. Call us to learn more!
Morpheus8 body treatments do not typically require downtime! 
A short recovery period should be expected. The skin will be red for about one week, and you may have micro-lesions, which will disappear within a few days. Patients can also resume normal activity after the procedure.
You will see your initial results by 3-4 days after your treatment. Patients typically require a series of 3 treatments performed at 3-4 week intervals. These improvements will continue to build for the next few months. Results last for 2-4 years, depending on your age, lifestyle, and skin care regimen.