Bothered by Poor Skin Texture and Tone?
Have years of sun damage and environmental stressors taken their toll on your facial appearance? Do you have a variety of skin concerns but don't know where to start? If you answered yes to these questions, a custom medical-grade facial at Derrow Dermatology might be right for you.
Medical facials are a non-invasive solution for addressing individual problems while also providing total facial rejuvenation. Derrow Dermatology has a wide range of cosmetic facials designed to help patients look and feel their best selves possible.
List of facials available:
Facials can be used for a variety of skin conditions and can be customized to meet your individual skincare needs.
Lunch Hour Facial (1 hour)
This simple facial is great for people on the go who just want an easy cleansing and pick-me-up! Using products and techniques precisely to fit your skincare concerns, this facial can address a variety of needs ranging from premature aging and environmental damage to acne flare-ups to a dull and patchy complexion. This facial includes a thorough cleansing and ultrasonic exfoliation.
Dermaplaning Facial (1 hour)
Dermaplaning is a simple, quick and safe procedure that exfoliates and removes the top-most layer of dead skin along with temporarily removing "peach fuzz". It is most often used on patients with rough/dry skin. As with any type of exfoliation, the removal of dead skin cells allows skin care products to be more effective, reduces the appearance of fine lines, evens skin tone, and assists in reducing milia, closed and open comedones, and minor breakouts associated with congested pores. It is a safe treatment for patients who are pregnant or nursing and want a deep exfoliation. This treatment may also be recommended to prepare the skin for chemical peels as it allows products to penetrate more readily into the deeper layers.
Got Your Back Facial (1 hour)
Facials aren't just for your face! Our back facial targets the patient's specific concerns such as acne, clogged pores, and dehydrated skin. Your treatment begins with a deep pore cleansing followed by steam, exfoliation, and extractions. Treatment is completed with a custom medical mask to help with any inflammation, impurities, and restoring hydration to the skin.
Forever Young Facial (1 hour)
We're all getting older but you don't have to let wrinkles define you! This facial uses 3 different sources of technology in addition to the custom skin cleansing: Radio Frequency, LED light energy, IR heat energy. The combination of these energy sources creates a safe, painless treatment with visible results. This treatment slowly delivers heat into the dermis of the skin to help stimulate the production of collagen and tighten the skin. To further enhance the results, a Brightening hydrojelly mask is applied.
Don't Be So Sensitive (1 hour)
Calm down your irritated skin with our facial specially designed to combat redness and inflammation. Combining LED Therapy and a mild peel, this treatment is ideal for those with rosacea, acne-prone and sensitive skin. This facial uses LED therapy (a non-invasive treatment that treats the skin with a special wavelength of light that targets inflammation and bacteria and promotes collagen production to give your skin a healthy glow. To further enhance the benefits, a mild chemical peel is performed, and a custom mask is applied.
glow for it (1 hour)
Our Signature Glow facial is a rejuvenating and stimulating treatment that will clean out your pores, brighten your skin tone and make your skin feel hydrated and refreshed. This facial includes ultrasonic exfoliation, extractions to remove impurities and a hydrojelly 24k mask. This facial also incorporates our LED therapy to help helps minimize the oil glands, pores as well as promote collagen production to give your skin a more youthful glow.
Gentlemen's facial (1 hour)
Designed just for men, this treatment is a relaxing way to treat razor bumps, unclog your pores, brighten your skin tone and makes your skin feel hydrated and refreshed. This facial includes an ultrasonic exfoliation, extractions to remove impurities, and a custom mask is applied.
Just for teens (1 hour)
This facial is completely customized to each young patient and includes a deep cleanse, exfoliation, extractions and a custom mask. It's a great opportunity to introduce our younger patients to healthy skin care routines and educate them about a simple regimen that they can use at home to maintain their results.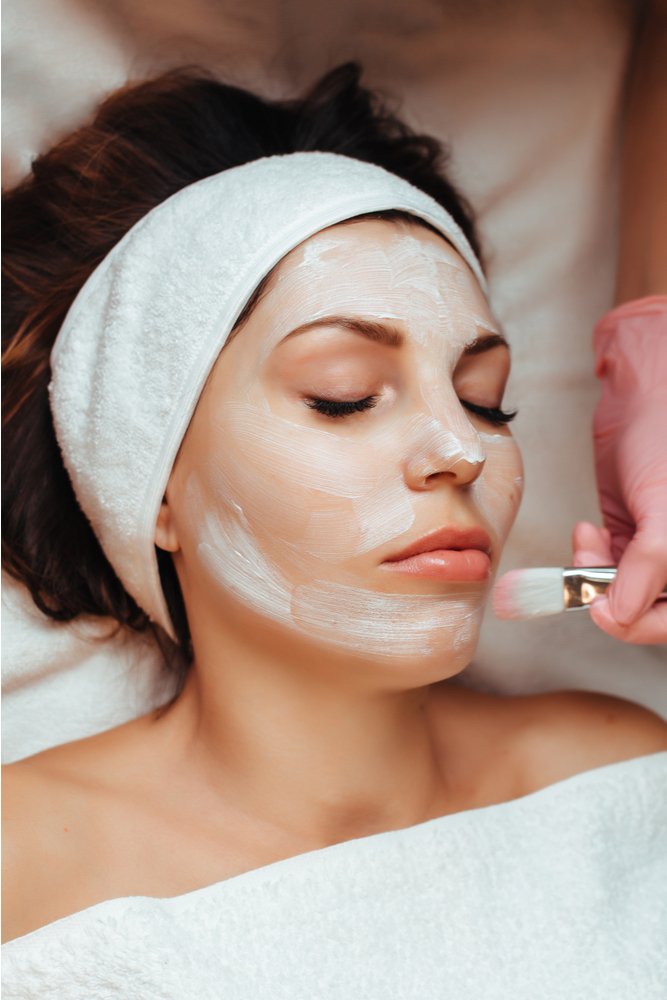 How Do Facials Work?
Facials are done in-office by our skilled esthetician. The typical procedure entails cleaning the face before applying the chosen facial product. Patients can sit back and relax as the active ingredients penetrate to the deeper tissue layers. Each facial we offer uses clinically proven active ingredients and has distinct benefits for a variety of concerns.
Custom Medical Facials: These facials are handpicked to tackle your individual concerns. Whether it's fine lines, wrinkles, hyperpigmentation, enlarged pores, or acne scars, custom facials can help!
Deep Pore Facial: This facial is one of the best procedures for extracting dead skin cells and deep debris. This treatment removes two weeks worth of all that debris so your pores are squeaky clean and you can enjoy the long-lasting effects of enhanced cellular turnover.
Acne Facial: Our acne facial helps relieve active acne breakouts while also addressing acne scars and overall textural problems
Facials can be done on their own or paired with Facials can be done on their own or paired with extractions and dermaplaning treatments for enhanced results. Brenda Martinez, CMA, LME, will speak with you about all of your facial options in-depth at the time of your consultation.
Am I a Good Candidate for a Facial?
Nearly anyone can benefit from facial procedures. The highly-customizable treatments afford your esthetician the ability to effectively address your individual concerns. Both patients who are seeking relief from acne and/or visible signs of aging and sun damage can find a solution with facials. You may also be a good candidate if you're on the hunt for a preventative care treatment that will leave your skin looking fresh all year round.
How Long Does a Typical Treatment Take?
Facials are non-invasive procedures that take time to penetrate the dermis. Most facials are done in less than 1-hour. However, others can need much longer depending on the active ingredients. Dr. Witt can provide you with treatment times during your consultation.